LOOKING FOR WORK
2/22/2014- 3/30/2014

Opening Reception:
Saturday, February 22, 7-10pm

Kara Braciale
Aideen Doran
João Enxuto
David Stein

Each artist in Looking For Work creates a material economy that critically examines their own mode of artistic production by employing, depicting and researching work done by others—from bottle collectors in Chinatown to garment workers in Bangladesh. Through appropriation, documentary photography, outsourced labor and performance this exhibition exploits both the dissonance and harmonies found in the exchange between artist and unintentional collaborator.

Kara Braciale creates small economies around the production of her art. She contracts outside labor to paint an image determined by translating a range of texts such as Marx's Capital into decorative binary patterns. The subtle differences among handiwork, as well as the titles which bear the names of each maker, stand as a record of the unique "labour-process" of each painting. Kara Braciale is an artist based in Boston, MA; she is Director and Co-founder of Proof Gallery, a non-profit contemporary art space in South Boston, MA.

Aideen Doran's recent work looks at the garment and textile industries in Northern Ireland, as well as Bangladesh, in an investigation into the value of labour and the shifts between production and non-production in the contemporary economy. Aideen Doran is an artist and researcher based in Glasgow.

João Enxuto's series of photographs, "Ragpickers," depicts bottle collectors in Chinatown and the Financial District of Manhattan. The images are made at night with a handheld Graflex press camera used to record blurred figures bending into bags of refuse. Each black-and-white "rag paper" print is color-toned in a soft drink bath. This series extends the tradition of street photography as a documentary practice that both indexes and abstracts. The "Ragpicker" operates in a shadow economy and is indigenous to the modern city. They are the original precariat; subsisting on the trash heap of progress. João Enxuto is an artist based in New York City.

In David Stein's ongoing project, The T-Shirt Times, the artist makes thirty shirts with thirty unique headlines, each culled from newspapers that day, and then roves around a neighborhood handing them out and initiating conversations about the news. The shirts circulate that day around the city, where residents see them and they become advertisements for the news that day, conversation starters, or confusing fashion statements. Worn weeks, months, years later, these shirts orphan the text further from their source, time, and context. David Stein lives and works in Brooklyn, NY.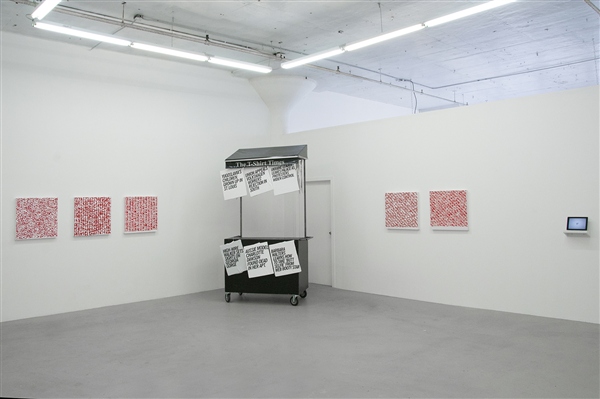 Installation view of Looking For Work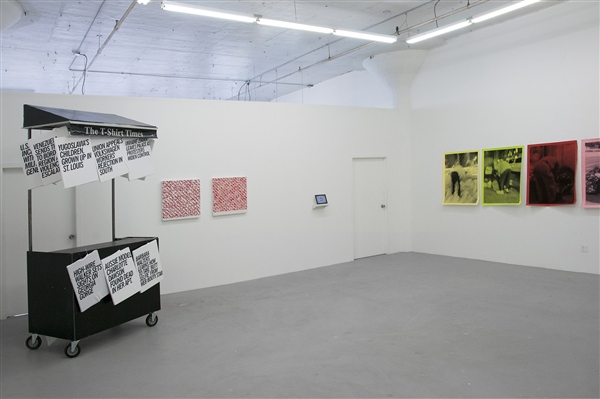 Installation view of Looking For Work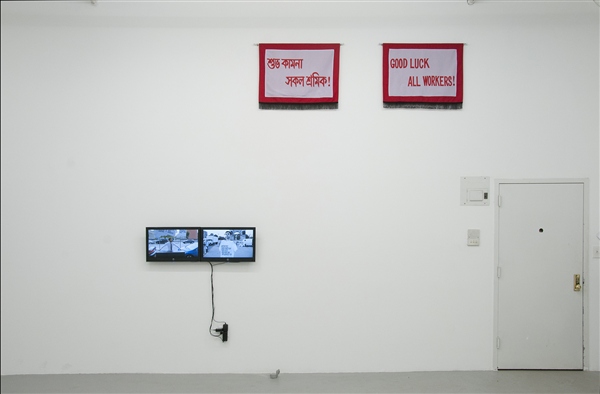 Installation view of Looking For Work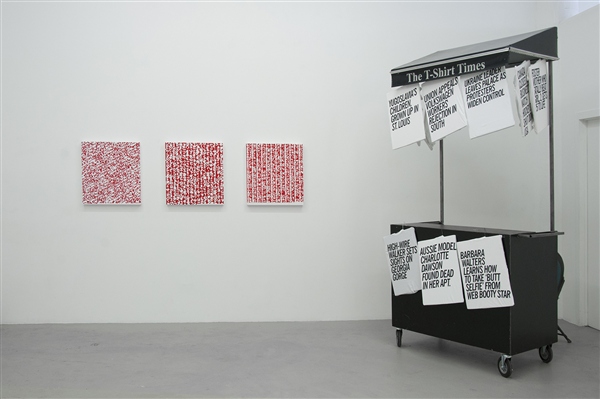 Installation view of Looking For Work



Installation view of Looking For Work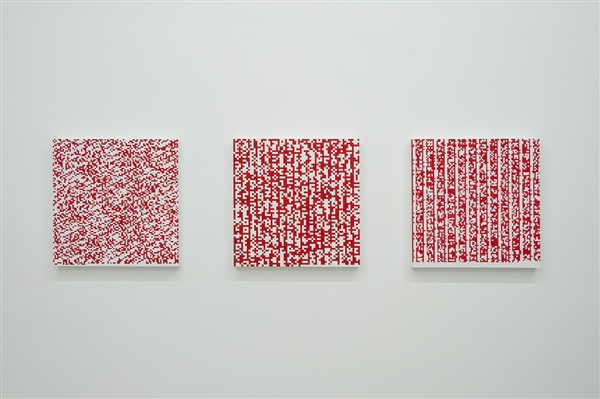 Kara Braciale
The Dice are Loaded (Susan Metrican), 2014
gouache on panel, 24" x 24"
"Labour is, in the first place, a process in which both man and Nature participate, and in which man of his own accord starts, regulates, and controls the material re-actions between himself and Nature. He opposes himself to Nature as one of her own forces, setting in motion arms and legs, head and hands, the natural forces of his body, in order to appropriate Nature's productions in a form adapted to his own wants. By thus acting on the external world and changing it, he at the same time changes his own nature. He develops his slumbering powers and compels them to act in obedience to his sway. We are not now dealing with those primitive instinctive forms of labour that remind us of the mere animal. An immeasurable interval of time separates the state of things in which a man brings his labour-power to market for sale as a commodity, from that state in which human labour was still in its first instinctive stage. We pre-suppose labour in a form that stamps it as exclusively human."

Kara Braciale
The Dice are Loaded (Laura Braciale), 2014
gouache on panel, 24" x 24"
"In the labour-process, therefore, man's activity, with the help of the instruments of labour, effects an alteration, designed from the commencement, in the material worked upon. The process disappears in the product, the latter is a use-value, Nature's material adapted by a change of form to the wants of man. Labour has incorporated itself with its subject: the former is materialised, the latter transformed.That which in the labourer appeared as movement, now appears in the product as a fixed quality without motion. The blacksmith forges and the product is a forging."

Kara Braciale
The Dice are Loaded (Erin Pointdexter), 2014
gouache on panel, 24" x 24"
"A spider conducts operations that resemble those of a weaver, and a bee puts to shame many an architect in the construction of her cells. But what distinguishes the worst architect from the best of bees is this, that the architect raises his structure in imagination before he erects it in reality. At the end of every labour-process, we get a result that already existed in the imagination of the labourer at its commencement. He not only effects a change of form in the material on which he works, but he also realises a purpose of his own that gives the law to his modus operandi, and to which he must subordinate his will. And this subordination is no mere momentary act. Besides the exertion of the bodily organs, the process demands that, during the whole operation, the workman's will be steadily in consonance with his purpose. This means close attention. The less he is attracted by the nature of the work, and the mode in which it is carried on, and the less, therefore, he enjoys it as something which gives play to his bodily and mental powers, the more close his attention is forced to be."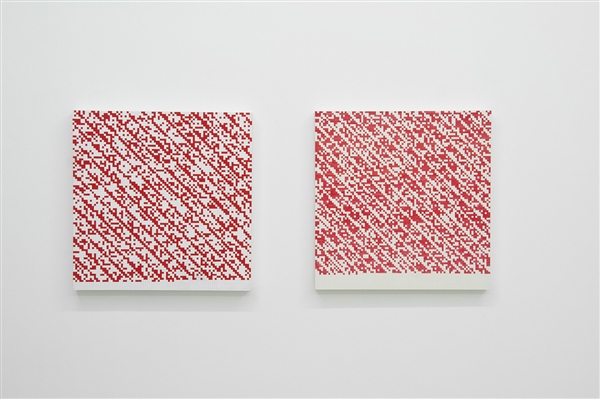 Kara Braciale
The Dice are Loaded (C. Bryan Ramey), 2014
gouache on panel, 24" x 24"
"The capitalist buys labour-power in order to use it; and labour-power in use is labour itself. The purchaser of labour-power consumes it by setting the seller of it to work. By working, the latter becomes actually, what before he only was potentially, labour-power in action, a labourer. In order that his labour may re-appear in a commodity, he must, before all things, expend it on something useful, on something capable of satisfying a want of some sort. Hence, what the capitalist sets the labourer to produce, is a particular use-value, a specified article. The fact that the production of use-values, or goods, is carried on under the control of a capitalist and on his behalf, does not alter the general character of that production.We shall, therefore, in the first place, have to consider the labour-process independently of the particular form it assumes under given social conditions."

Kara Braciale
The Dice are Loaded, 2011-12
gouache on panel, 24" x 24"
"Les dés sont pipés. Capital works on both sides at the same time. If its accumulation, on the one hand, increases the demand for labour, it increases on the other the supply of labourers by the "setting free" of them, whilst at the same time the pressure of the unemployed compels those that are employed to furnish more labour, and therefore makes the supply of labour, to a certain extent, independent of the supply of labourers. The action of the law of supply and demand of labour on this basis completes the despotism of capital. As soon, therefore, as the labourers learn the secret, how it comes to pass that in the same measure as they work more, as they produce more wealth for others, and as the productive power of their labour increases, so in the same measure even their function as a means of the self-expansion of capital becomes more and more precarious for them; as soon as they discover that the degree of intensity of the competition among themselves depends wholly on the pressure of the relative surplus population […]"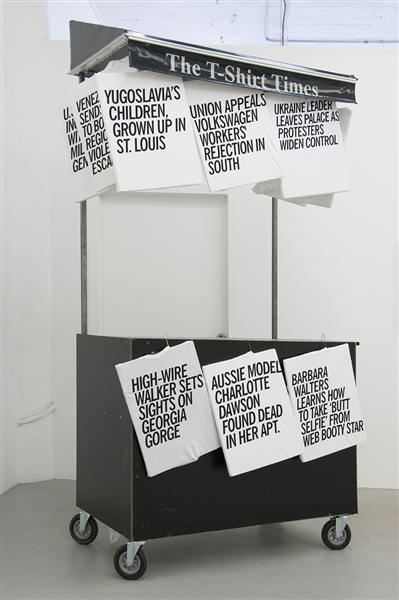 David Stein
Untitled, 2012-ongoing
T-Shirt Times cart, t-shirts
24 x 51 x 96 inches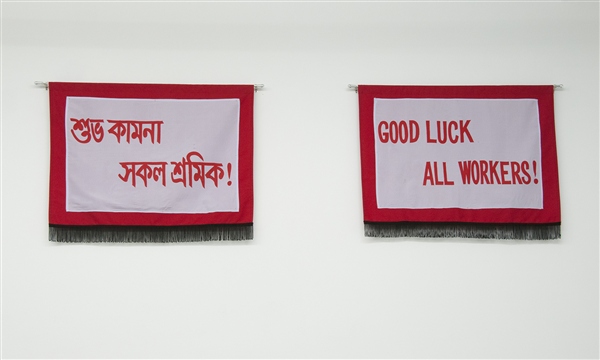 Aideen Doran
Good Luck to All Workers (Best wishes to All Workers), 2013
Handpainted signs in English and Bangla, fabric banner and fixings
180 x 80cm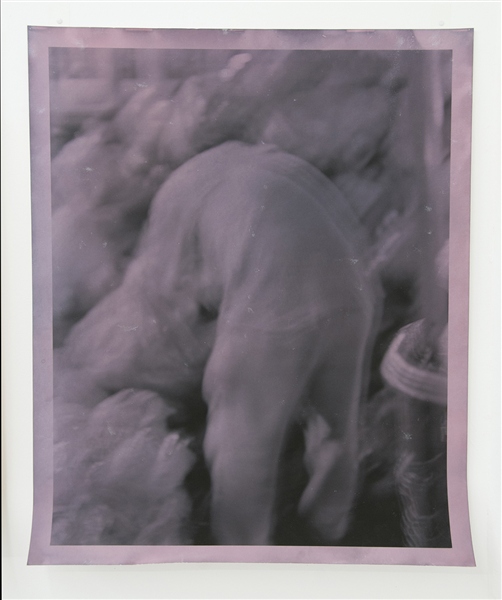 João Enxuto
Ragpicker (purple)
2013
inkjet on cotton rag toned with Fanta Grape
41 x 33 inches
unique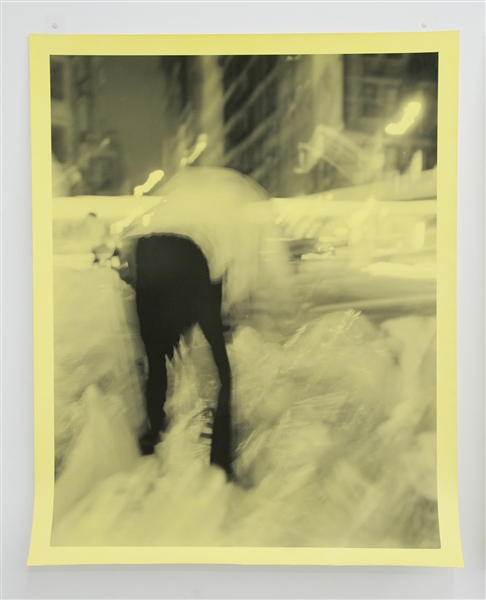 João Enxuto
Ragpicker (yellow)
2013
inkjet on cotton rag toned with Jarritos Limon
41 x 33 inches
unique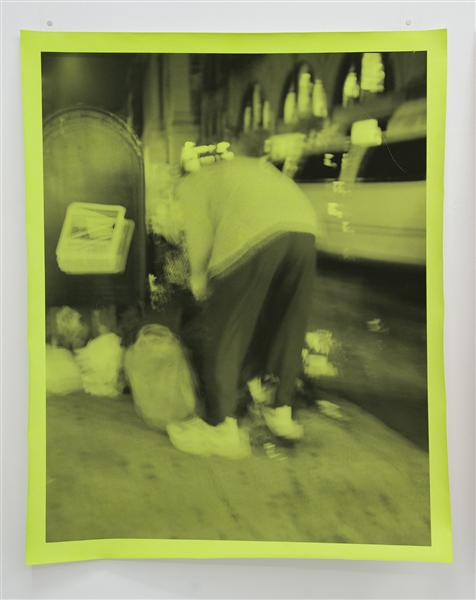 João Enxuto
Ragpicker (yellow-green)
2014
inkjet on cotton rag toned with Gatorade Lemon-Lime, Jolly Rancher Green Apple Soda, and Gatorade (G2) Tropical Blend
41 x 33 inches
unique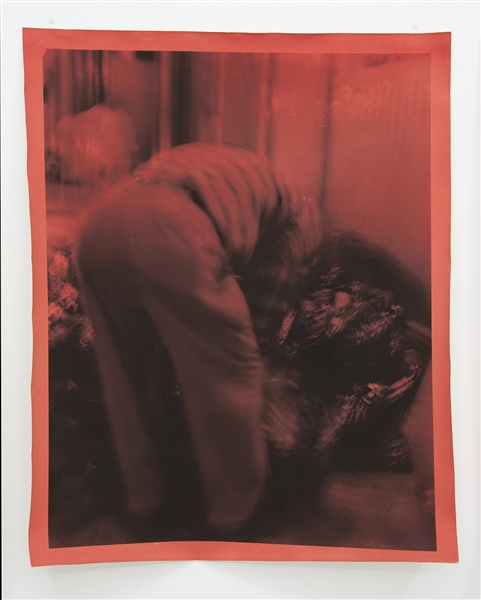 João Enxuto
Ragpicker (red)
2014
inkjet on cotton rag toned with Pepsi Wild Cherry and Sunkist Fruit Punch
41 x 33 inches
unique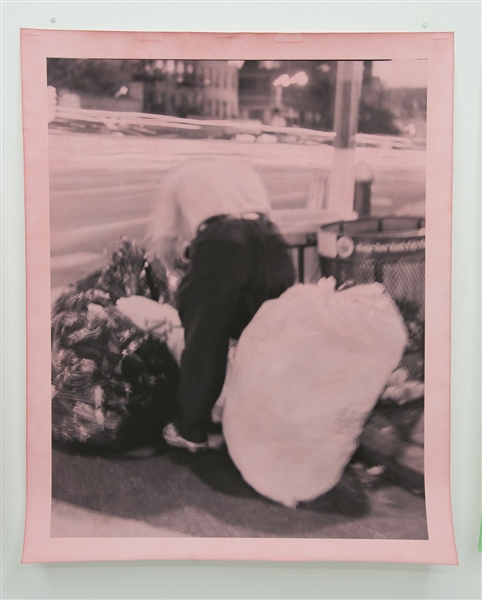 João Enxuto
Ragpicker (pink)
2013
inkjet on cotton rag toned with Sierra Mist Cranberry Splash
42 x 34 inches
unique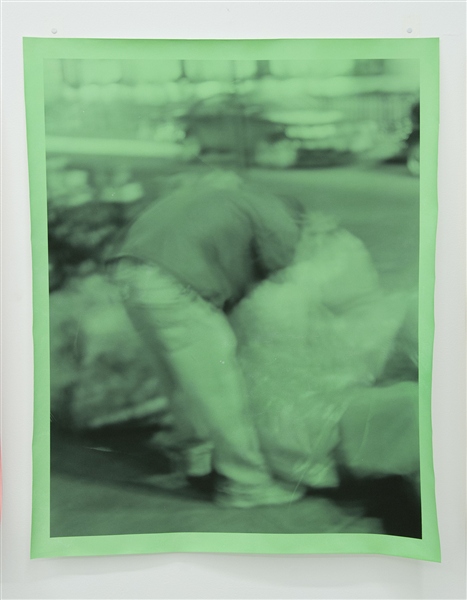 João Enxuto
Ragpicker (mint blue)
2014
inkjet on cotton rag toned with Jarritos Pina, Langers Blue Paradise, and Gatorade Cool Blue
41 x 33 inches
unique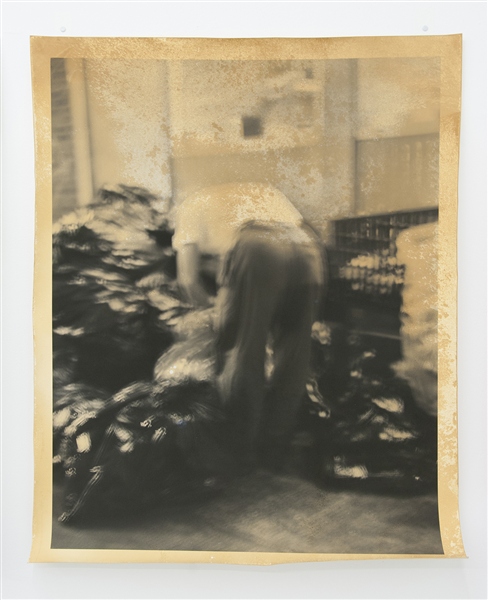 João Enxuto
Ragpicker (brown on brown)
2014
inkjet on cotton rag toned with Coca-Cola, Dr. Brown's Cream Soda, and A&W Root Beer
41 x 33 inches
unique